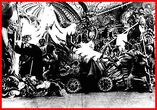 Le Manoir du diable is a horror movie
(English The House of the Devil) is a 1896 two-minute-long French film directed by Georges Méliès . The film contains many traditional pantomime elements and was intentionally meant to amuse people, rather than frighten them. The film is also referred to as: The Haunted Castle, The Devil's Castle/Manor, The Manor of the Devil.
Run Time: 3 minutes
Color: Black and White
Release Date: 24 December, 1896
Devil Film

It was released on Christmas Eve, 1896 , at the Theatre Robert Houdin, 8 boulevard des Italiens, Paris. It was from this three-minute short that many assume the horror film was born.
The film starts off with a large bat flying into a medieval castle. Once in, the bat circles slowly while flapping its monstrous wings before suddenly changing into Mephistopheles. After preparing a cauldron, the demon produces skeletons, ghosts, and witches from its bubbling contents before one of the summoned underworld cavaliers holds up a crucifix and Satan vanishes in a blast of smoke.
Directed by
Georges Méliès Writing credits
Georges Méliès

Starring! Jeanne d'Alcy
Georges Méliès ... Mephistopheles
External links
Edit
Community content is available under
CC-BY-SA
unless otherwise noted.