Known aliases
Peter Baker (Birth Name)
Angel of Death
Angela Johnson
Maria Nicasco
Known relatives
John Baker (Father;deceased)
Angela Baker (Sister)
Martha Thomas (Aunt)
Ricky Thomas (Cousin)
Status
Alive (In one timeline),
Deceased (In the other)
Year of death
1989 (In one timeline)
Film
Portrayed by

1 image(s) of
Angela Baker
Angela Baker (Born: Peter Baker) is the main character in the Sleepaway Camp films.
Biography
Edit
John Baker and his two children Angela and Peter Baker out on a lake near a summer camp. After their small boat accidentally flips, John and the children begin to head ashore, where John's lover, Lenny is calling. As the family swims, a pair of teenagers pulling a water skier in a motorboat fail to notice them and hit them, killing John and Angela. The surviving Peter is sent to live with his eccentric aunt Dr. Martha Thomas and his son Richard "Ricky" Thomas. Martha forced Peter to act like a girl because she always wanted one and already had a boy.
Sleepaway Camp
Edit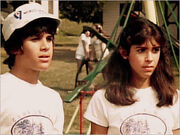 Angela is first introduced. At the end of the film it is revealed she is Peter and not Angela.
Sleepaway Camp II: Unhappy Campers
Edit
Angela enters Camp Rolling Hills as camp counselor, Angela Johnson.
Sleepaway Camp III: Teenage Wasteland
Edit
Angela enters Camp New Horizons after she murdered a young woman who was about to attend camp, and assumes her identity.
Sleepaway Camp IV: The Survivor
Edit
A survivor of Camp Arawak named Allison Kramer learns about Angela Baker
Return to Sleepaway Camp
Edit
The real Angela is revealed to be alive and commits a murder spree at Camp Manabe.
Paul
Demi
Lea
TC
Sean Whitmore
Matt
Uncle John
Rob Darrinco
Diane
Truck driver
Maria Nicastro
Bobby Stark
Officer Barney Whitmore
Greg Nakyashima
Anita Burtrum
Paramedic
Police officer
Perpetrators
Edit
Artie
Kenny
Billy
Meg
4 young campers
Judy
Mel Kostic
Phoebe
Jodi Shote
Brooke Shote
Mare
Anthony
Charlie
Emilio
Judd
Ally Burgess
Tawny Richards
Herman Miranda
Jan Hernandez
Peter Doyle
Snowboy
Arab
Cindy Hammersmith
Lily Miranda
Riff
Community content is available under
CC-BY-SA
unless otherwise noted.