Known relatives
Year of birth
April 15, 1961
Year of death
October 31, 1978
Age
17 (at time of death)
Film
Status
Deceased
Portrayed by

7 image(s) of
Annie Brackett
This page is about the original Annie Brackett. For the remake version, see Annie Brackett (remake timeline).
| | | |
| --- | --- | --- |
| " | I think you're wacko. Now you're seeing men behind bushes! | " |
| | ― Annie Brackett to Laurie Strode | |
Annie Marie Brackett is a character in the Halloween franchise. She appears in the original Halloween, played by Nancy Loomis. She also appears briefly in Halloween 2.
Biography
Edit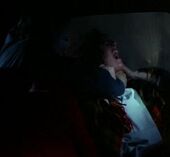 Annie Brackett was born to Leigh and Joanne Brackett on April 15, 1961 in Peoria, Illinois.[1] Her family eventually moved to Haddonfield, Illinois, where she attended Haddonfield High School. Her best friends were Laurie Strode and Lynda van der Klok. Annie occasionally babysat for children in her neighbourhood, which Lynda claimed she only did so she had a place to be with her boyfriend, Paul. On Halloween 1978, she was babysitting for Lindsey Wallace, across the street from Laurie, who was babysitting Tommy Doyle at the same time. Wanting to spend time with Paul, Annie convinced Laurie to look after Lindsey, while she went to pick him up.
However, when she got in her car, Michael Myers sprung up from the backseat and started strangling her. As she gasped for air, he slit her throat, killing her.[2] She was later taken away. Annie was buried in Mt. Sinclair cemetery in Haddonfield.[1]
References
Edit