Robert "Bob" Simms was played by John Michael Graham. He was a minor character in the original Halloween and the boyfriend of Lynda van der Klok. He was a student at Haddonfield High School.
Biography
Edit
At first Bob and Lynda drove towards the Wallace house, so they could have sex in one room and Annie and her boyfriend in the other, while Lindsay Wallace would be with Laurie, the little girl Annie had to take care of for the night. When they both thought, that Annie had gone away with her boyfriend for the rest of the night away from the house, he fooled around with Lynda in Annie´s babysitting place and also had sex with her.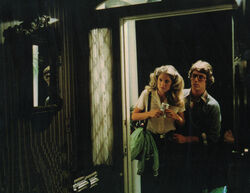 After sex he went downstairs to get beer. There he met the gruesome fate of being one of the many victims of serial killer  Michael Myers in the first Halloween movie. He attacked him, lifted him up and impaled him to the wall with a butcher knife through his chest. His body was later discovered by Laurie Strode in the upstairs bedroom, where it had been suspended from the ceiling. 
Community content is available under
CC-BY-SA
unless otherwise noted.