Abraham Stoker was an Irish novelist best remembered as the author of the 1897 novel, Dracula.
Born the third of seven children in Clontarf, Dublin, Stoker worked as a critic for the Dublin Evening Mail, eventually coming to the attention of Victorian stage actor Henry Irving. Stoker later worked as Irving's personal assistant at the Lyceum Theater in London, England. Rumor has it that Stoker based many of Dracula's behavior and mannerisms on Irving while crafting his 1897 novel. In addition to Dracula, Stoker also wrote The Jewel of the Seven Stars, which was later adapted into the 1971 film Blood from the Mummy's Tomb, Legend of the Mummy and Bram Stoker's The Mummy. Another Stoker novel, Lair of the White Worm was adapted into a low budget film in 1988. One of Stoker's short stories, Burial of the Rats which was included in the anthology volume, Dracula's Guest and Other Weird Stories, was adapted into a television movie in 1995.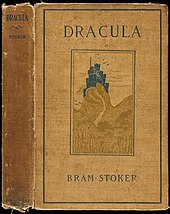 Bram Stoker is featured as a character in the 2009 documentary film Dracula's Stoker.
The Horror Writers Association created the Bram Stoker Award in honor of Bram Stoker. The award is given out to writers and film collaborators for various categories.
External Links
Edit
Community content is available under
CC-BY-SA
unless otherwise noted.