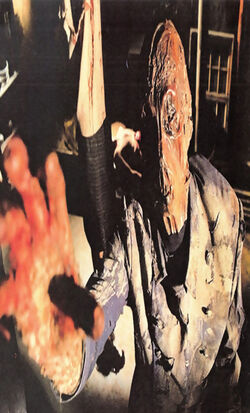 Jacob Tess Freudstein is a character in
The House by the Cemetery.
Dr. Jacob Tess Freudstein" was a man who lived in a new England House Called "Oak Mansion" Freudstein was a German Victorian Era (1837–1901) surgeon who conducted illegal experiments. Later Freudstein killed his family. When they found him years later, Freudstein was just a living corpse with rotting flesh. The 150-year-old Freudstein lived by using his victims' parts to regenerate blood cells.
Community content is available under
CC-BY-SA
unless otherwise noted.