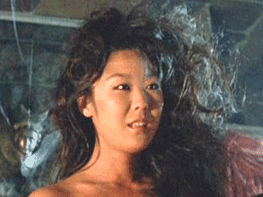 Frannie is a side character in Night Of The Demons, 1988. She became a victim of the cruel massacre at Hull House. Frannie is played by Jill Terashita. 
Description
Edit
Frannie is probably a high school senior, alike the rest of the party goers. She's in a relationship with Max. Frannie accompanies Max, Jay Jansen and Judy Cassidy to join the others at the Hull House party, also sharing that she is familiar with Hull House legends, since her childhood.
Hull House
Edit
Frannie was quite entertained in the party and later sneaks with Max, to the casket store and were later murdered by a possessed Stooge in the casket who breaks her neck. Frannie returns as a zombie demon but soon burns down at dawn.
Community content is available under
CC-BY-SA
unless otherwise noted.