Gill-man (The Creature) is a monster horror film characters films The Creature from the Black Lagoon (1954), Revenge of the Creature (1955) and The Creature Walks Among Us (1956).
The last surviving member of a race of amphibious humanoids which lived during the Devonian age, the Gill-man (as christened by Dr. Thompson) dwelled in a lagoon located in a largely unexplored area of the Amazon Rainforest. The creature was apparently known to the natives, as the captain of the boat Rita mentioned local legends of a "man-fish".
The Gill-man in his natural habitat, as portrayed by Ricou Browning in Creature from the Black Lagoon After having found the fossilized remains of another Gill-man, a marine biology institute funds an expedition to the Amazon in order to find more remains. Though the Gill-man reacts violently to the intrusion, he develops a soft spot for the team's only female member, Kay and repeatedly tries to abduct her, going as far as building a makeshift dam to prevent their boat from escaping. After having killed numerous members of the expedition, the creature takes Kay to his underwater lair, where he is tracked down by the remaining survivors and riddled with bullets. The creature sinks into the depths of the lagoon.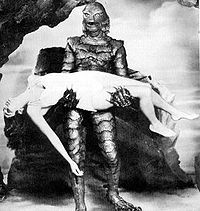 Community content is available under
CC-BY-SA
unless otherwise noted.