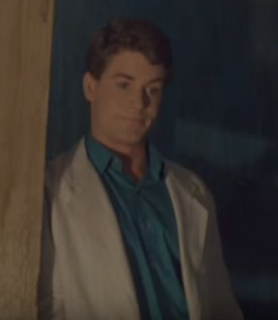 Jay Jansen is a stud character in Night Of The Demons. Jay is portrayed by Lance Fenton.
Early Life
Edit
Jay is apparently a next door playboy character. It is likely that Jay is admitted in a hostel, as seen during his opening scene in a room that resembles the hostel in Night Of The Demons 2.
Jay shares a newly born love with Judy Cassidy and invites her to a party at Hull House on the night of Halloween, hosted by Angela Franklin. Although, Judy initially resists but is soon convinced by Jay. Jay pays a visit to the Cassidy House, to pick Judy, he is then poked by Billy Jr. Cassidy and offered atrocious food by Mrs. Cassidy, which he later refuses.
Hull House
Edit
Jay and Judy are later accompanied by Max and Frannie, who then head to the Hull House to join the other crew. Jay is apparently agitated due to the inclusion of Sal Romero, possibly due to his shared past relationship with Judy. However, during the party, Jay is more inclined towards Suzanne and pays comparatively less eminence to his date, Judy. Judy later perceives that Jay isn't concerned with her and his interest is ultimately vested in a one night stand, the duo later breaks up.
Concealed to Jay's knowledge, a possessed Suzanne lures Jay into a make out session, ultimately popping his eyes out. Jay later resurrects as a zombie for a short span and is soon burned to ashes.
Community content is available under
CC-BY-SA
unless otherwise noted.