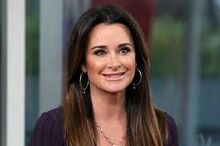 Kyle E. Richards (born January 11, 1969) is an American actress.
Early life
[
]
Richards was born in Hollywood, California. She is the daughter of Kenneth Edwin Richards (1917 - 1998) and Sharon Kathleen (née Dugan; 1938 — died of breast cancer in 2002). The couple separated in 1972 and Kathleen later remarried. Richards' siblings are the actresses Kathy Richards (born 1959) and Kim Richards (born 1964). Socialites Nicky and Paris Hilton are her nieces, daughters of her sister, Kathy.
Career
[
]
Richards began acting in 1975, playing Alicia Sanderson Edwards on the television series Little House on the Prairie; throughout the 1970s, she appeared in several television series and in horror films: The Car, Eaten Alive and Halloween, where she played Lindsey Wallace (the character that Nancy Loomis ' character, Annie Brackett is babysitting). In 1980, she appeared opposite Bette Davis and Lynn-Holly Johnson in the Disney children's horror film, The Watcher in the Woods, playing a terrorized young girl. Although she made a cameo appearance in Halloween II, most of her 1980s roles were minor, and included made-for-television or video work.
Her recent acting roles include playing the part of Nurse Dori on the hit television series, ER and playing Lisa, a minor character in the film National Lampoon's Pledge This!. She has also appeared in episodes of her niece Paris Hilton's reality series The Simple Life and My New BFF. She will reprise her role as Lindsey Wallace in the upcoming sequel of Halloween , Halloween Kills.