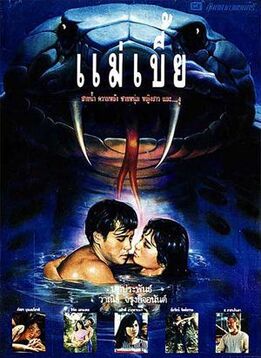 Mae Bia (แม่เบี้ย) is a 1989 Thai horror thriller film. It has a 2001 remake with the same name.
Mekhala is a rural young attractive lady living in a old house. Tourists groups are frequently visiting the house to buy local products. Chanachol, urban educated businessman, is visiting the house and there is an immediate match between Mekhala and him. Mekhala is living with Pa, Lung and a little girl. The previous owners of the house and their child drowned but the corpse of the child was never found. Chanachol has the feeling that he already comes before in this old house. Chanachol is already married and have two children. Finally Chanachol has a liaison with Mekhala. A supernatural jaleous cobra is protecting Maekala. The cobra tries to send Chanachol away but Mekhala refuses and protects Chanachol against the snake. Phot, a local resident, also wishes to marry Mekhala but she refuses. The cobra sends him away. Phot comes back to Mekhala's house in order to catch and kill the cobra. He gets bitten and dies. Meanwhile Chanachon's wife realises that her husband has an extra-marital affair. She tries to threathen Mekhala. Still loving strongly Chanachon, Mekhala decides to break with him in order not to wreck his family. Chanachol cannot stand this separation and go back to the old house. On the way back, the cobra makes him fall from the boat and he drowns. It seems that Mekhala's previous suitors ended up dead and a new one is already courting Mekhala...
Likit Eakmongkol
Sor Asanajinda
Passorn Boonyakiat
Apiradee Pawaputanon
It is one of the several Thai movies that is featuring snakes.
The film spawned a 1993 sequel with the title Ngoo Yuk Paya Mae Bia and a 2001 remake with the same name.
The snake is playing an important part in Buddhist culture (a snake or "NAGA" - นาค changed his appearance into a man in order to enter monkhood). Snakes can also be related to ghosts and spirits.
Community content is available under
CC-BY-SA
unless otherwise noted.