IMDb Rating

2.6

Monstroid (also known as Monster) is a 1980 american natural horror film directed by Kenneth Hartford and Herbert L. Strock, and starring James Mitchum, John Carradine and Philip Carey.
When a small Colombian village is viciously attacked by a creature from a nearby lake, a corrupt chemical company sends a specialist (Jim Mitchum) to destroy the beast and cover up their involvement with its creation.
James Mitchum as Travis
John Carradine as Priest
Philip Carey as Barnes
Anthony Eisley as Pete
Andrea Hartford as Andrea
Glen Hartford as Glen
Coral Kassel as Girl in lake
Aldo Sambrell
The Legend That Became a Terror!
Part Animal ... Part Shark ... All Devil! It Hunts Humans on Land and Sea!
Buried in the mud of countless centuries - something has begun to grow....
Production began in 1971, but personnel, logistical and financial problems resulted in it being shut down. After several stops and starts over the years, it was finally completed and released in 1979.
Burgess Meredith, Aldo Ray, Cesar Romero and Keenan Wynn were all originally announced for this project.
Although producer Kenneth Hartford received directorial credit, in an interview with Tom Weaver cast member Anthony Eisley said Hartford had very little to do with it: Herbert L. Strock directed everything. Then later on Hartford shot a couple of scenes in Griffith Park with his kids and claims to have directed it. It's totally fallacious."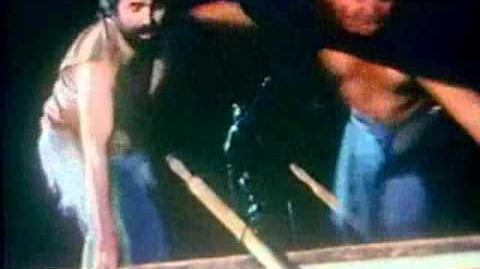 External links
Edit
Community content is available under
CC-BY-SA
unless otherwise noted.