Neve Adrianne Campbell is a Canadian Actress. She is best known for her role as Sidney Prescott in the Scream franchise.
Early Life
[
]
Neve Campbell was born in Guelph, Ontario in 1973. She grew up surrounded by the theater, her father was a drama teacher and her grandparents ran a theater company, and at age 6 decided to enroll at the Erinvale School of Dance after seeing a performance of The Nutcracker.
At the age of 9, Campbell moved into a residence hall at the National Ballet School of Canada, where she performed in numerous shows. However, after suffering several dance-related injuries and having a mental breakdown, she transitioned into the role of an actress at age 15.
Career
[
]
Campbell's career in the horror genre began with the widely popular film The Craft, in which she played the role of a teenage witch called Bonnie.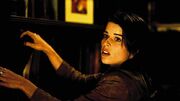 Her next role in horror proved to be, and continues to be, her most popular. This is the role of Sidney Prescott in the 1996 film Scream. The role earned her critical acclaim worldwide as well as a Saturn Award for Best Actress. The success of this film immediately spawned two sequels, Scream 2 and Scream 3. Campbell won the MTV Movie Award for Best Female Performer for the second installment in the, then, horror trilogy. After starring in these three films, Campbell took a long break from the horror genre.
She finally returned to horror to reprise her role as Sidney in the 2011 film Scream 4. Since the release of this film, she has yet to be a part of another horror-related project.
Horror filmography
[
]
External Links
[
]