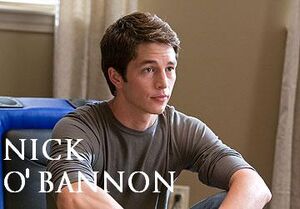 Nick O'Bannon
is the visionary in The Final Destination. He is a college student from McKinley, Pennsylvania and a survivor of the McKinley Speedway accident. Nick is the tenth and last survivor to die. He is played by Bobby Campo.
Biography
Edit
Troy was resided in McKinley, Pennsylvania. He is the boyfriend of Lori Milligan, friends with Hunt Wynorski and Janet Cunningham and they attend college together. Nick doesn't know whatever he should do the responsible thing by starting a career or should go off and experience life. He and his friends are watching the race at the McKinley Speedway, for their college break.
After the events that took place two weeks prior, Janet, Lori and Nick met with each other in a coffee shop about vacation plans. While there, Nick saw several clues foreshadowing their deaths and told them that they weren't safe. Suddenly, the scaffolding next to the coffee shop falls over and blocks the road. A truck is unable to avoid the scaffolding and turns sharply, driving right into the coffee shop and running over Nick, Lori and Janet.
In skeletal vision, Nick is hit with the side of the truck and is launched into the wall, which shatters his skull. When his body falls on the floor, blood flows out his head and his teeth are knocked out and bounce everywhere, one of which hits the camera.
Nick's name may have, been Tom originally.
Community content is available under
CC-BY-SA
unless otherwise noted.