Playland Toys is a fictional toy store in the first Child's Play film. It is located in 418 South Wabash Avenue, Chicago, Illinois.
After missing his partner Eddie Caputo and while being chased by detective Mike Norris, Charles Lee Ray runs into the Playland Toys store, but Norris tells him to surrender. He shoots the door and gets Inside where he tries to hide. He tries to shoot Norris but he is fatally shot in the chest. The mortally wounded Ray, seeking revenge on him and Eddie, finds boxes of "Good Guy" dolls, crashing into them. He finds one and proceeds to perform a voodoo ritual on it to transfer his soul into it, causing the store to get struck by lightning, exploding the store. Norris finds Ray's body and the doll.
At some point later, a a street peddler found the doll from the burnt store. He gives him the doll to Karen Barclay as a birthday gift for her son Andy.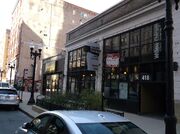 The Playland Toys store was actually a Chinese restaurant that closed down in Chicago, on the corner of Wabash and Van Buren.
Community content is available under
CC-BY-SA
unless otherwise noted.