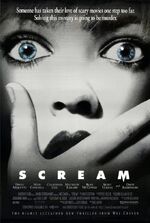 The Scream films are a series of American slasher films that follow the attempts of several individuals to murder Sidney Prescott, Gale Weathers, and Dewey Riley. The killers all don the persona of Ghostface, using a costume and voice changer to hide their own identities.
The series currently includes four films and a TV series produced by MTV. The franchise has also spawned a lot of tie-in merchandise, including soundtracks and action figures.
Film
Director
Writer
Producer(s)
Scream
Wes Craven
Kevin Williamson
Cathy Conrad & Cary Woods
Scream 2
Cathy Conrad, Wes Craven, & Marianne Maddalena
Scream 3
Ehren Kruger
Cathy Conrad, Kevin Williamson, & Wes Craven
Scream 4
Kevin Williamson
Iya Lebunka, Kevin Williamson, & Wes Craven
The Stub Template is used to identify an article as a stub.
Insert Series Overview Here
Title
Type
Director
Writer
Producer
Scream: The TV Series
TV Series

Jill E. Blotevogel

Wes Craven

Wes Craven
MTV
Community content is available under
CC-BY-SA
unless otherwise noted.