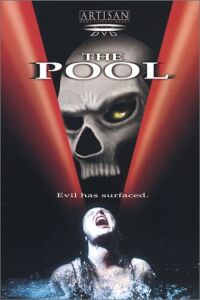 Swimming Pool is a 2001 German slasher film, known in Germany as Der Tod feiert mit, The Pool in Britain, Italy & the USA, and Water Demon in the Philippines. It is directed by Boris von Sychowski.
Plot Synopsis
Edit
To celebrate graduation, a group of international students of a Prague high school break into an indoor swimming complex, giving them free access to pools, water slides and plenty of alcohol, for the ultimate end-of-school party to remember. Little do they realise a sadistic killer wearing a skull mask, armed with a machete is amongst them, who soon begins systematically slaughtering the teenagers. Soon they begin fighting for their lives, hoping to find a way out of the building alive.
The film has conventions typical of slasher films, including a masked-killer, red herrings, multiple suspects and plenty of murders, all which can been seen in better known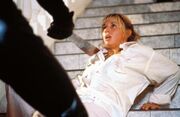 films such as
Scream
.
Getting Wet
Edit
The Canadian slasher film featured a monumental movie death which became increasingly talked about from the cinema viewers and others who had watched it.
The part when one particular youthful girl slides down a water tunnel slide only to have her vulva collide with a machete inserted through the bottom.
Community content is available under
CC-BY-SA
unless otherwise noted.