Tom Hanniger is a character who appears in the 1981 slasher film My Bloody Valentine and its 2009 3D remake.
Never Said it Was
Edit
Tom Hanniger's father in the original 81' film is the mayor as well has the propietor of the mines. In the remake he has been dead more than a following year and was the owner of the mines but not mayor.
Tom in both films is seen trying to win back former love interest Sarah.
However like in both films she now belongs to rival friend Axel Palmer. Tom in the original was the not serial killer dressed in the miner outfit and mask however in the 2009 remake he is. His motivation in the remake: Simple: Psychotic Breakdown from former confrontation with Harry Warden and inability to cope with the loss of fomer girlfriend. In the original however he is the titular heor along with the final girl Sarah and wins back his love.
Tom's the Love of her Life
Edit
In the 2009 remake we get to see the attack from Harry Warden that ended Tom and Sarah's meant to be relationship.
Sarah was madly in love with Tom Hanniger and in the original their love consummated once again after discovering his means of leaving.
Tom in the remake as the killer actually survives the mine explosion kills a paramedic and assumes his costume to escape. Tom is still about in both films as both the hero with Sarah and spurned killer seeking revenge. In the 2009 remake in 3-D he was portrayed by hit television star and CW natural Jensen Ackles.Edit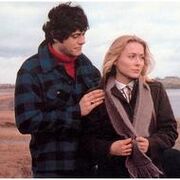 Community content is available under
CC-BY-SA
unless otherwise noted.